2014 Summer Weddings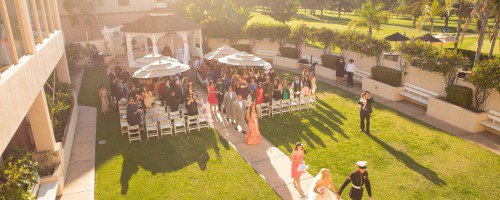 June 29, 2013
Summer weddings are so beautiful in this part of the country. With lots of fine summer wedding venues in Los Angeles, you have many choices when it comes to where to hold your ceremony and reception. Quiet Cannon is one of the most beautiful summer wedding venues in the area, and our staff will work with you to make sure that every detail of your big day meets your expectations.
Natural is Beautiful



Summer and the beauty of nature go hand in hand. That is why it is not a surprise that a hot summer wedding trend is using things found in nature to create the décor for your wedding. This includes skipping the candles for your centerpieces and instead choosing plants, rocks, greenery and other natural items.
Whether your wedding is to be held indoors or outdoors, try to include as many natural elements as possible.
Bright Colors are Hot



The powers that be have decided that pale, soft colors for a summer wedding are out and bright, bold colors are the way to go. Imagine your bridesmaids dressed in a bright pink or bold orange standing next to you in your white wedding gown.
The bright color trend extends to the flowers as well. Your bouquets are another way to provide a bright pop of color for your summer wedding.
A Cool Summer Refreshment



In years past, there have been new summer drinks that were a must have at weddings. This year that must-serve wedding drink is a wine smoothie. These beverages are both delicious and refreshing on a warm summer day.
Go Green



Here is a trend that is not exactly new and is not just for summer. While the idea of having a green wedding has been around for a while, the idea continues to pick up steam and is especially hot for summer weddings in 2014.
There are many ways that you can "green" your summer wedding.

• Choose recycled items when possible
• Use flowers from organic sources
• Allow guests to RSVP via email rather than having to use additional paper

Those are just a few of the many ways that you can have a wedding that is environmentally friendly.

When you choose Quiet Cannon for the backdrop to your trendy summer wedding you will have the chance to save money because we offer special rates for special dates. Even if you are planning a wedding on very short notice, there is a good chance that we will be able to not only accommodate your wedding, but offer you a great rate as well.

When it comes to summer wedding venues in Los Angeles, it is tough to beat Quiet Cannon. Give us a call today to see how we can help you make your summer wedding dreams come true.