Hosting an Affordable Business Conference in Los Angeles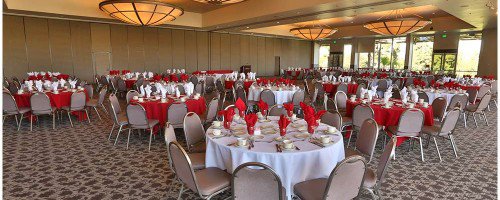 September 19, 2012
In the current economy businesses large and small are looking for ways to cut costs. Often one of the first things to go are regular business conferences. While these meetings are helpful and, in some cases, can help boost morale, the cost is often too great to justify.
Finding an affordable conference center in Los Angeles can be a challenge, but it's not impossible. Keep reading for some tips on holding a business conference that won't destroy your bottom line.
Conference Room Discounts
Many conference centers in Los Angeles charge a room fee for the use of their private meeting space. But, some of these will reduce or eliminate the room fee if you purchase food or drinks from the venue.
Quiet Cannon is a conference center that offers such a benefit. When you consider that some venues charge $2500 per hour to rent space, it makes sense to find a location that will allow the fee to be waived with a food purchase.
You will likely still have to provide lunch, so renting space in a place where food is not available is rarely the choice that will provide an economic advantage.
Size of Group
Some venues will only allow a larger group, while others cannot handle a group of more than 100. Quiet Cannon accepts groups as small as 25 and, with 30,000 square feet of meeting space, can handle very large groups as well.
Some of the conference centers in Los Angeles work on a sliding scale when it comes to price. For example, if you are hosting a business conference for 30 people, the per person charge may be $40. If you order the exact same menu for 250 people, the cost goes down to $35 per person.
Quiet Cannon understands that small businesses need access to quality meeting space and exceptional service as much as a larger company does. They also do not think that you should have to pay a premium just because you bring a smaller group.
The price for a business conference package is $25.95 whether there are 25 people attending your conference or 500 attending.
Quality vs. Price
It goes without saying that finding an affordable conference center in Los Angeles is only a good deal if the quality and service standards are high. Whether you are entertaining clients or potential clients, or having a meeting for employees, you want the food, atmosphere and service to convey the message that your business is successful.
You might be able to find a few options for meeting space for under $30 per person, but you also must consider quality.
Quiet Cannon provides a continental breakfast, a mid-morning coffee break and a full lunch and afternoon break all for one price of $25.95 per person. The lunch can be served either buffet style or plated and served. There are many menu options including a deli buffet, fettuccini Alfredo, roast beef and more. The afternoon break includes coffee, cookies and brownies.
Quiet Cannon also provides plenty of free parking and a microphone and podium at no extra charge.
Hosting a business conference in Los Angeles can be expensive, but it doesn't have to be when you book with Quiet Cannon Conference Center.