Garden Weddings in Los Angeles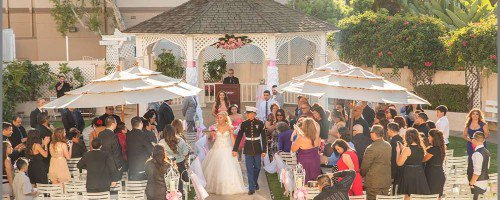 September 19, 2012
Garden weddings can be very romantic and memorable, and are gaining in popularity. For those looking to have a garden wedding, Los Angeles is a top location. The warm and pleasant year round climate allows for garden weddings to be held during every season.
With the benefits of warm weather, Los Angeles proudly contains a number of locations for outdoor garden weddings. These locations offer beautifully landscaped gardens for the wedding couple and their guests who are looking to enjoy the outdoors while attending the ceremony.
If you are not sure what type of venue to choose, it helps to know what to look for in a garden wedding location. Here are some tips:

• Pick a facility that offers indoor ceremonies in the unlikely onset of rain.
• The decor should be wind proof as wind is a problem in many garden weddings.
• There should be an option for the wedding reception to be held in the same location for convenience.
• Helpful planners and staff who can design the wedding just as you imagine it.
With the right preparation and choice of venue, your garden wedding can be a dream come true.