Frequently Asked Wedding Questions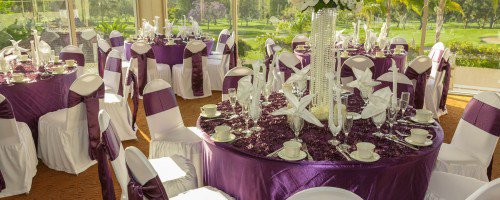 September 23, 2012
When planning a wedding, many questions pop up. After all, getting married isn't something that you do every day! Below are answers to a few of the most frequently asked wedding questions.
Q: How far in advance should I mail out the invitations?
A: Wedding invitations should be mailed out about six to eight weeks prior to the event. Many brides also mail out a "save the date" card, which can be sent up to a year in advance. You should always try to give some extra notice to those who will be coming from out of town.
Q: What is the first thing I should consider when planning a wedding?
A: Some would say the answer to this is the dress or the colors. A better answer is the venue. The venue will have an impact on all of the other wedding planning decisions that you make. Start with the venue and then build your dream day from there.
Q: I do not want flash photography during my ceremony. What is the best way to tell the guests?
A: The best way to do this is to place the request in the wedding program. Most guests will likely peruse the program while waiting for the ceremony to begin. Some brides also ask the person officiating the wedding to make a brief announcement just prior to the start of the ceremony.
Q: Do I have to serve a meal at my reception?
A: This depends on the time of day that you get married. If the reception falls during a normal meal time, either lunch or dinner, then yes, you should serve a meal. If not, you can opt to serve Hors d'oeuvres, cake and punch for your reception.
It is a good idea to include wording to that effect in the invitation so that guests will not be expecting a full meal. For example, you could include the following phrasing "Hors d'oeuvres, Cake and Punch Reception to Follow" or "Light Refreshments Will be Served". Quiet Cannon has many wedding meal packages to choose from.
Q:Should I Choose a Buffet or a Plated Dinner?
A: Both are wonderful options, and there are pros and cons to each. With a buffet, there are more choices for each guest. Also, there is no need to keep track of which guests chose which entrée. Some brides, however, prefer the more formal choice of a plated dinner.
Q: Who is supposed to pay for the rehearsal dinner?
A: Traditionally, the bride's family pays for the wedding and the groom's family pays for the rehearsal dinner. Of course, now, many couples pay for much of the wedding expenses on their own. Under no circumstances should members of the wedding party or other guests be asked to pay for their own rehearsal dinner meal.
As you continue with the planning of your wedding, you will surely have many more questions. Just take your planning one step at a time, and be sure to enjoy every moment of this very special time of your life.