The Quiet Cannon Bridal & Special Event Showcase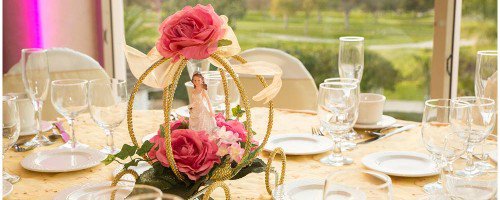 September 19, 2012
Most of your wedding guests will have attended many wedding receptions in the past. If you want your special day to stand out, you will need to incorporate fun reception ideas that will make it memorable to your guests. Below are a few ideas to consider.
When it comes to bridal shows, Los Angeles has their fair share. This show, however, takes place at one of the most beautiful indoor and outdoor event facilities near Los Angeles.
The Bridal & Special Event Showcase is held every three months and is the perfect opportunity to see all that Quiet Cannon has to offer in terms of both indoor and outdoor event space. Located just minutes from downtown Los Angeles, Quiet Cannon boasts over 30,000 square feet of event space and gorgeous, lush landscaping that provides an amazing natural backdrop for your wedding or other event.
A beautiful golf course and picturesque gazebo provide guests with glorious views during your outdoor wedding. The floor-to-ceiling picture windows in some of the indoor banquet rooms allow guests to enjoy those same views during your indoor event.
When you attend the Bridal & Special Event Showcase, you will have the chance to see the facility dressed in all its finery. Ballrooms rooms will be set up as if for a wedding reception. Usually, brides-to-be have to try and imagine what a venue will look like when it is set up. But, when you attend the Bridal & Special Event Showcase, you will get the full effect.
As an added bonus for attending, if you book your event the night of the Bridal Expo, you will receive an automatic upgrade at no cost to you.
Tickets for the event are $5 at the door. Guests will be able to sample some of the most popular food items from the special event menu and meet with many vendors such as bakeries, DJs, photographers, florists and many more.
This is your one stop bridal vendor shop. At this bridal expo, some of Los Angeles' best wedding vendors will be in attendance. You could book all of the major vendors for your wedding without having to run all over town. The Quiet Cannon hosts these Bridal Shows so you can save time you would have spent doing research on each vendor and focus instead on other details of your wedding planning.
To make the most of your time at the Bridal Show, Los Angeles brides should be sure to write down any questions that you have for each vendor. Take the time to view the portfolios of each service provider so that you can get a good sense of their style. This will help you choose the vendors that will best be able to help you achieve your vision.
Come and meet the professionals, see their work, and ask any questions that you might have about their services.
Planning a wedding is hard work, but when you are able to see a venue, meet a variety of vendors and sample food, all in an hour and a half, it makes the planning a bit easier.
Want to Attend The Quiet Cannon Bridal & Special Event Showcase?

WHERE: The Quiet Cannon Conference & Event Center


WHEN: Tuesday, August 27, 2013 from 6:00 to 9:30 p.m.
HOW MUCH: $5 at the door or pre-register by calling (323) 724-4500