The Orpheum Theatre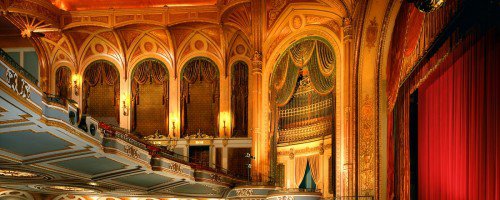 June 29, 2013
Last month we started this series of attractions near Quiet Cannon. The first on our list of featured places to visit was The Hungtington Library. Today you'll discover the elegence of the Orpheum Theatre.
The world-famous Orpheum Theater is just 9 miles away from Quiet Cannon. The theater has housed everything from early Judy Garland Vaudeville acts to American Idol tapings and has seen its fair share of history in the 85 years since the doors opened.
The style and architecture of the building are meant to bring back the glory days of Hollywood and the theater in generally when starving actors and actresses dreamed of making it big on stage and the big screen. Upon entering the Orpheum, you'll step back in time and become surrounded by the luxury and opulence that only exists in memory.
You can spend the day on the links at Quiet Cannon and the nights at the Orpheum enjoying world-class Broadway shows like Eric Idle's hysterical "What About Dick?" in addition to special screenings of classic movies like the 1922 version of Robin Hood.
The Orpheum is also available for corporate events and private parties. Check back later this month for a post about The California Science Center, just 11 miles from us.