Ideas for a Wonderful Summer Wedding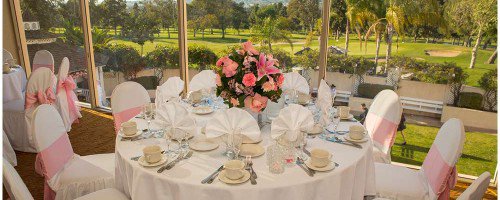 September 19, 2012
Summer is a nice time of year for an outdoor wedding ceremony, but there is more to a fabulous summer wedding than a gazebo in a garden. If you are planning a summer wedding in California, you are fortunate because when it comes to wedding reception venues, Los Angeles really understands outdoor weddings.
One such venue, Quiet Cannon, offers options for both outdoor and indoor events. While all that goes into planning a beautiful summer wedding is more than would fit in one article, below are some ideas to consider when planning your own outdoor wedding ceremony.
Flowers
For some people, summer is all about the flowers. Be sure to include a variety of gorgeous summer blooms in several colors to complement your overall wedding theme.
Send the summer home with your guests by choosing seed packets and a starter pot as favors for each your guests. This will allow them to go home and plant a "wedding garden" that will remind them of your special day each time they see their blooms.
The Dresses
If your summer wedding is going to take place outdoors, keep that fact in mind when choosing your gown and your bridesmaid's dresses. Rather than heavy fabrics, you may want to opt for lighter choices that will breathe, such as cotton or other natural fibers.
The Food
The food choices at a summer wedding do not necessarily have to be different than for a wedding held at any other time of year. However, it is fun to include some food items that have a decidedly summer feel. This may include a table of fresh, straight from the vine summer fruits. Another option is to have an ice cream sundae bar, which is an especially good idea if there will be lots of kids at your wedding reception.
Summer weddings are beautiful for many reasons. Just think of all the things you love about the season, and that will help you come up with your own unique ideas for your summer wedding.