Choosing Your Wedding Dress Style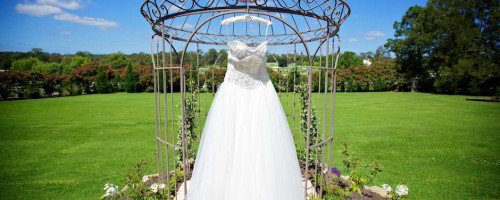 June 29, 2013
Delving Deeper Into the Selection Process
Aside from the most talked about factors—like silhouette, color, and budget—there are endless other things to consider as you begin your quest for the perfect gown. The average bride-to-be has most likely envisioned her wedding day dozens of times over the years, making every detail critical. In order to bring that vision to life, each aspect of your special day must be just right. Armed with the best insight into wedding dress selection, you'll be able to bring to life the vision you've had since childhood of the perfect wedding day. Whether you've always wanted a formal fairy-tale wedding or a simple sophisticated event, these tips will help you select the gown of your dreams.
A Picture is Worth a Thousand Words
Your wedding pictures will exist in the lives of friends, family members, and your own life for decades. Hung on the walls of loved ones' homes and adorning the mantelpiece in your own home, the wedding dress will play center stage in photographs captured all throughout your big day. Being able to cherish your wedding photos will hinge upon proper dress selection as much as your choice in photographer. Before you set out to shop for the dress of your dreams, consider the way you want your wedding memories to be captured.
Time spent contemplating your vision of the ceremony will help to iron out many details of the dress. Ask yourself things like:

• What time of day will we schedule the ceremony?
• Where will we want the reception to be held?
• Do we prefer traditional, contemporary, or somewhere in between?
With the sentiment of the day in mind, it's possible to decide if you'll want a simple flowing dress or an ornate formal gown. The end result of time spent pondering these important elements will be the wedding of your dreams and a wedding album you will treasure for a lifetime.
The setting of the ceremony and the reception will also play a key role in dress selection. Check back next month for more info on how the venue will influence the style of your wedding dress.