A Wedding Venue with Accommodations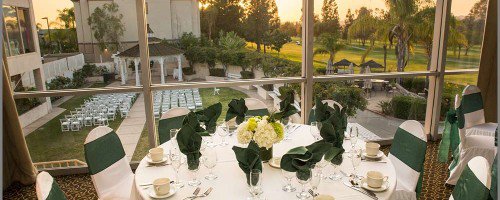 September 20, 2012
When planning a wedding, finding ways to make things a bit simpler – without sacrificing your vision for your big day – is important. Finding a wedding venue with Overnight accommodations for guests is a priceless find. Of course, you don't want to settle for an inferior wedding location just because it offers accommodations. Los Angeles has wonderful options for weddings of every size.
Out of Town Guests
Most guests who come from out of town will not know their way around. Choosing a wedding location with accommodations will eliminate the need for them driving around Los Angeles searching for their hotel after leaving the reception.
Getting Ready
Another big plus of choosing a wedding venue with accommodations is that the bridal party will have a place to get ready. It is well worth the cost of a hotel room or two so that the entire bridal party will have access to a bathroom and large comfortable rooms in which to get dressed.
Freshen Up
Even if your ceremony location is elsewhere, the bridal party can still benefit when the bride chooses a wedding location with accommodations. Los Angeles can get hot. After the ceremony and the time it takes for the wedding photographs, the bride and the wedding party may want to take a minute to freshen up before heading to the reception.
After a quick stop at the hotel room to touch up hair and makeup, the entire bridal party will be looking morning fresh for the reception.
Bride & Groom
Even if the bride and groom will be leaving the following morning for their far away honeymoon, having a room close by for the wedding night is certainly a plus. There will be much to do the next day in order to catch flights and make sure you have packed everything you need.
Wouldn't it be nice to be able to just walk a few steps after the reception and have a quiet place to spend your first night as husband and wife?
Guests Who Celebrate a Bit Too Much
Another possible advantage of choosing a wedding venue with accommodations is for those guests who might have had a bit too much to drink. Consider holding a room or two for such guests. Instead of them having to find a ride home or calling a cab, they can simply spend the night in one of the nearby rooms and then drive home in the morning.
Choosing a Wedding Venue with Accommodations
There are a number of wedding locations with accommodations in Los Angeles, but all are not necessarily created equal. Remember, you do not want to sacrifice quality for the convenience of a nearby hotel.
If you need a very large banquet facility and hotel in Los Angeles, this will further limit your choices. Quiet Cannon is an elegant wedding venue that can accommodate parties of 30 through 1200. There is a Hilton Garden Inn located right next door so guests can easily walk from their room to the reception.
Finding a large banquet facility and hotel in Los Angeles that offers beautiful views, fabulous food and a helpful staff isn't easy, but Quiet Cannon will meet every single one of your needs.
Choose a wedding location with accommodations that is everything you have ever dreamed of in a venue. It will take a bit of stress out of your wedding day and that truly is a priceless find.