A Garden, A Gazebo, or A Golf Course?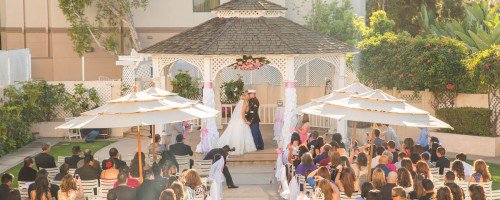 June 29, 2013
Last month we gave tips to keep in mind when choosing your wedding dress style. The ceremony location and reception also play a key role in your dress selection. Choosing the right wedding venue in Los Angeles will help to set the tone for the day, making it easy to determine the style of dress that best captures the mood. Quiet Cannon features an array of reception and wedding settings, allowing brides and grooms to choose a formal or casual venue, based on their preferences. A less formal garden ceremony would work well with an ethereal gown, simple accessories, and understated makeup. A golf course might be the ideal reception setting for a formal wedding and a lavish full wedding gown and a jeweled tiara.
Because every detail of your wedding day must be in harmony, it's vital that you take all things into consideration when you set out to find your perfect dress. Making your dream wedding come to life involves the right gown, ideal reception setting, and photographs you can cherish for years to come. Contact Quiet Cannon for more information about the many wedding event options.